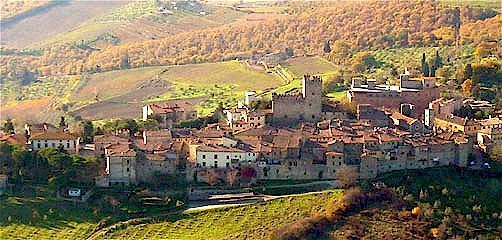 On-line since 1998.
The surroundings of Castellina, all part of the Province of Siena, are famous for their
vacation rentals, holiday farm houses and villas, and Bed & Breakfast accommodations
. A huge amount of restoration of rural properties around Castellina has taken place during the past few years, with the result that almost every holiday home has modern facilities and many also have a swimming pool. The town of Castellina in Chianti itself contributes to the popularity of this area by providing convenient access to provisions and restaurants. A car is very useful for holiday-makers although there is a good bus service to Siena.
Castellina in Chianti is located on a ridge between the valleys of the Arbia, Elsa and Pesa rivers. The municipality of Castellina is entirely within the Chianti Classico wine zone. The town is of Etruscan and Roman origin, and was a fife of the nobles of Trebbio in the 11 C and then an important Florentine garrison. Castellina became the seat of local government for the ancient Chianti League together with Radda and Gaiole in the 13 C, but in the 14 and 15 C raids and pillaging were common. The Florentines built the town walls between 1400 and 1402. The wall is dominated by the fortress and huge keep, the Rocca Comunale of Castellina, and is characterised by underground vaulted passages such as the Via delle Volte. The inhabited part of Castellina retains some of its 14 C character, and in the countryside there are many farmhouses from the era of the Grand Dukes of Florence and even earlier. Not far from the centre of Castellina there is a large Etruscan tomb which dates back to 6 C BC. The churches in the surrounding area are numerous and all interesting, particularly San Martino a Cispiano which has conserved most of its Romanesque features, including a beautiful apse and a single nave, and San Leonino in Conio which holds a Madonna and Child by Lorenzo di Bicci. The village of Fonterutoli, cited in a document from 998, has a long and interesting history. The peace agreement between Siena and Florence was signed in 1201 in its Church of San Miniato (since replaced).